---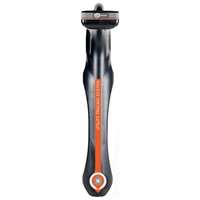 Power mode - 50 Hz, 100 Hz, 450 Hz / 60 Hz, 120 Hz, 540 Hz


22 frequencies user configurable


2 x LR20 battery type


Battery life - 60 hours intermittent use (at 20°C / 68°F)


IP65 IP rating


Easily trace power cables over long and short distances with pinpoint accuracy


Highly durable and weatherproof


Easily locates and traces cables in congested areas and with high levels of electrical interference.


--
Receiver
The receiver operating in passive mode (Power) uses frequencies of 50 Hz, 100 Hz, 450Hz/60Hz, 120 Hz and 540 Hz. The passive mode (Radio) is based on frequencies from 15 kHz to 60 kHz. The active mode with a transmitter offering frequencies of 512 Hz, 3140 Hz, 8192 Hz, 32768 Hz and 83.1 kHz plays a key role. Antenna configuration is based on single peak value, double peak, null and full field.
In the Power mode, the measured depth range  is up to 3 m, and in the Radio mode – up to 2 m. In the active mode with a transmitter, the depth measurement range is 4.6 m, and in probe mode – even 6 m.
It is also worth noting the accuracy of measurements. The measurement error does not exceed 5% of the depth in Line or Probe mode (from 0.2 m to 4.6 m) and 10% of the depth in Probe mode with a measurement at the depth of 4.6 m to 6 m. Due to the use of Bluetooth communication interface, the transmitter can be controlled remotely. An auto-turn off function has also been provided. The locator can work in temperatures from 20°C to 50°C. It can also operate at an angle, which allows detection to be performed under an obstacle such as  parked car or a building.
The receiver is operated with keyboard buttons which perform a number of functions, depending on the selected operating mode.